May Reads
I've had so many great reading recommendations that I can no longer hold my reads to one a month. Three reading recommendations follow.
Wonder by R. J. Palacio
Recommended by Menaka
This terrific book was the first children's title that has been recommended to me, and I really enjoyed it.
Auggie is a boy with many advantages: he is smart and funny, he and his sister are great friends, his parents are loving, and he has a grand dog named Daisy (I'm a sucker for a good pet in a story). It is a good thing that he has so many positive aspects to his life, as he also has more very difficult realities. He began life with significant physical challenges and while his many surgeries have improved the quality of his life, his appearance isn't 'normal'. Considering how important fitting in seems to be when you are in middle school, someone not looking like what passes for normal is likely to face difficulties.
As the book begins, Auggie is heading to grade 5. It is the first time he has ever gone to school, and so the anxiety ramps up for him and his family. And since it takes no time for the reader to care for this wonderful boy, we join him in his worries as we go with him to classrooms, hallways, labs, and stairways, hoping he will be met with kindness, but knowing he will be also be a target for unkind attention.
I really enjoyed how the author decided to tell the story with the voices of some of the other characters. Doing so deepens our understanding of them, and helped to further underscore just how great a kid is Auggie.
MPL had a wonderful employee I was lucky enough to work with for almost two decades. Lee had a mantra she used in her daily life, and as a training statement for the staff she supervised: When in doubt, be kind. I thought of her often as I read Wonder. She would have loved it since kindness is such an important theme woven in the fabric of this charming story.
Get your copy of Wonder today.
---
The High Mountains of Portugal by Yann Martel
Recommended by the One Book, One Milton Committee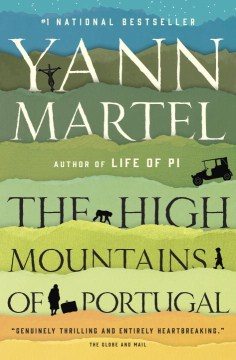 This is the first book I've read by Martel, and it won't be my last as this year's One Book One Milton title was a revelation. Martel has such an amazing gift for bringing characters vividly alive on the page and I thought he was particularly good when underscoring the heartbreak life so often brings. From a disillusioned priest trying to bring comfort to slaves, who has a revelation about the equality of humanity that shatters him, to a bereft scholar who undertakes an improbable automobile trek across Portugal in 1904, to a devoted husband of 38 years who continues to be dazzled by the incisive intelligence of his much loved wife, to the practical farm wife who insists on an unexpected procedure to be completed, and the grieving widower who connects with a force of nature, all of these disparate characters send the story spinning in many directions, but somehow all of the elements of the book resolve with an overlapping series of outcomes.
Faith. Love. Humanity. All of these are at the core of this sometimes bizarre, whimsical, comical, tragic, and ultimately deeply moving book.
Get your copy of The High Mountains of Portugal today.
---
All the Light We Cannot See by Anthony Doerr
Recommended by Samreen and Maria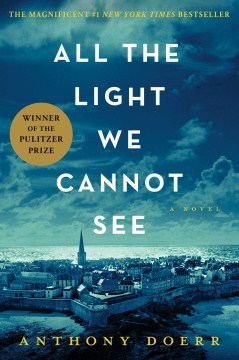 My. What a book. First of all, can we just stop for a moment to admire the poetry of the title? It is just resonantly beautiful.
Early in the book this is heard on the radio "The brain is locked in total darkness, of course, children, says the voice. It floats in a clear liquid inside the skull, never in the light. And yet the world it constructs in the mind is full of light. It brims with colour and movement. So how, children, does the brain, which lives without a spark of light, build for us a world of light?"
This time-shifting book set in the lead-up to and during the Second World War was a revelation. The characterizations were richly drawn, and as I write this, I continue to think about the major and minor people who threaded their way into and out of the story. Set principally in France, but also in Germany, we meet Marie-Laure, the much loved (and blind) daughter of a master locksmith and craftsman who works at an important museum in Paris, and we also meet Werner, an orphan who with his much loved sister, Jutta, lives in an orphanage in Germany where he displays a tremendous aptitude for circuitry, radios, and technology. Both are on a collision course with the horrors of war. We are with them as the author deftly brings episodes of their lives, and those of other characters forward and then lets them recede again, as another story, another time shift is highlighted to further explore how and why people make choices for which the consequences must then be accepted.
There are many kinds of darkness that are explored in the book, but the book glows with love, hope, sacrifice and courage which help to illuminate this story that describes so many dreadful days of the war.
Get your copy of All the Light We Cannot See today.