September Reads
Two reading recommendations follow.
The Rise & Fall of Great Powers by Tom Rachman
Recommended by Kerry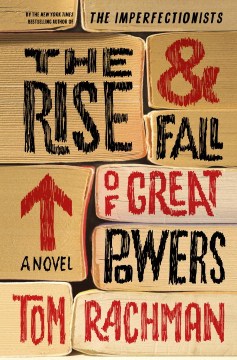 There are a trio of timelines that Rachman ravels and unravels in telling the story of Tooly Zylberberg. We first meet her in 2011, where she is the owner of the World's End second-hand bookstore in a small town in Wales. She bought the store knowing it was failing, and is, in fact, rather impatiently waiting for it to do so. She has an employee, a weirdly engaging younger man named Fogg, who "whatever the time of day, he appeared as if recently awakened by a fire drill". Together they spend their days reading and occasionally even selling books. As a reader who loves all bookstores, it was great to spend time in this idiosyncratic place, where sections were organized as "Artists who were unpleasant to their spouses; History, the dull bits; and Books you pretend to read but haven't". I'd love to visit this store.
You see that there is a restlessness and a mystery to Tooly, which is made more evident when the time shifts to 1999, where she is living a strange existence in New York City as a very young woman. From here, to 1988 in Bangkok where she is getting ready to go to yet another new school, before bouncing back to 2011, as Tooly responds to the urgent summons of an old boyfriend. This pattern of exploration continues through the book, often making your (and Tooly's) understanding even more uncertain.
Tooly is a wonderful character. I loved her as a child, was puzzled by her as a young adult, and admired her as an adult, as she tried to bring some logic to the mystery, abandonment, and colour of her past.
This is a terrific and beautifully written book. With wit, melancholy, understanding and many surprises it explores what it means to belong, to be lost and found, to contemplate what families are, what friendship means, how kindness comes from unexpected places, and how charisma can mask truth. And how, once knowing yourself and your need for love, perhaps you can find an identity, and a home.
Get your copy of The Rise & Fall of Great Powers today.
---
The Amazing Adventures of Kavalier & Clay by Michael Chabon
Recommended by Paul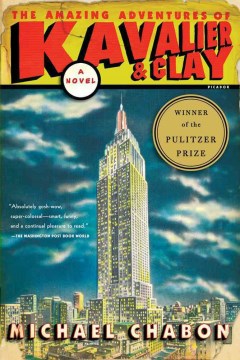 The adventures in this wonderful book were amazing, indeed. What an incredible book. This Pulitzer Prize winning title just dazzled me, such that I'm still grasping at ways to describe the pure enjoyment of this rollercoaster read.
Joe is a young man with tragedy at his core. Sam is a young man with denial at his core. Together they create genius. They met at the exact right time and place to succeed in something that, at the time, no one really valued: developing a comic book hero during what is now considered to be the golden age of comics. Joe brings knowledge of Houdini-like magic to the table along with his artistic skill, while Sam is a story-spinner of extraordinary ability.
Do I know anything about magic or comic books of this age? Not really? Did it matter? Not a jot.
The exuberance and excitement of the time (1939 Brooklyn and onward) was joyously alive on the page, while at the same time events across the Atlantic, as Europe began to convulse with the Second World War, and Jews were driven to their deaths by the millions in concentration camps, were a steady, serious counterpoint to Sam and Joe's neophyte comic book activities. Their comic creation, The Escapist, was a brilliant conceit on the part of Michael Chabon, and so brilliantly realized that you kind of finish the book believing that The Escapist was indeed a comic titan of that time, along with Superman and Batman. The Escapist is a man who cannot be contained, cannot be tied down, and cannot be stopped. He can escape any bounds.
The boys grow to be men and each chooses a most unexpected, yet understandable, path to maturity. By the end of the book, somehow their own individual approach to escape may have finally, decades after the end of the war, brought them the release they had always sought.
Full of vibrancy, sadness, love, and loss, I can't recommend this book too highly. It is a remarkable story.
Get your copy of The Amazing Adventures of Kavalier & Clay today.