October Reads
Three reading recommendations follow.
The Hero's Walk by Anita Rau Badami
Recommended by Farheen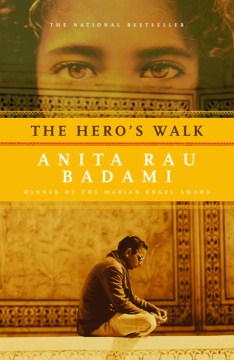 Living a life of quiet desperation is the fate of Sripathi Rao and his wife Nirmala, unmarried sister Putti, domestic tyrant mother Ammayya, and not quite successful son Arun. This once rich Brahmin family lives in a crumbling mansion in an unremarkable town on the Bay of Bengal. Disappointment, lost dreams, and aborted opportunities have, to an extent, crushed each member of the family, and there looks to be no hope for a brighter future on the horizon.
We meet them at the start of this wonderfully compassionate, often humorous and award-winning book as a terrible event occurs: Sripathi's estranged daughter Maya, who married outside her caste and race, has died with her husband in Vancouver, leaving behind an orphaned seven year old daughter they have never met. Nandana must come to live with her extended family, and with her arrival change somehow begins to happen.
Badami is a remarkable storyteller, as she shares the bitter regrets of the characters, the comedy of everyday life, the tragedies that can crumble the hearts of so many, and the unexpected finding of strength and determination to make joy possible in an ordinary life. With joy somehow hope returns. She brought to life every aspect of life in Sripathi's town, and I'm so pleased I was able to spend time in Toturpuram.
It was five o'clock on a July morning in Torurpuram ... in a few hours the heat would hang over the town in long, wet sheets, puddle behind people's knees, in their armpits and in the hollows of their necks, and drip down their foreheads. Sweaty thighs would stick to chairs and make rude sucking sounds when contact was broken. Only idiots ventured out to work and, once there, sat stunned and idle at their desks because the power had gone off and the ceiling fans were still. It was impossible to bat an eyelash without feeling faint.
This book. My goodness. I just loved it. I cared so deeply for the people brought to life on each page and I just ached for them to be happy. It made me laugh. It made me cry. It made me sad, and made me glad. Farheen, thanks so much for your recommendation.
Get your copy of The Hero's Walk today.
---
The Raven Boys by Maggie Stiefvater
Recommended by Eileen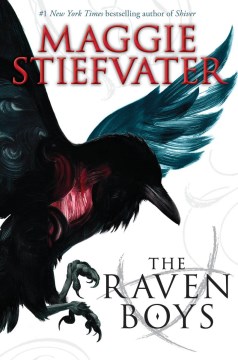 Maggie Stiefvater has been a published author for not quite 10 years, and in that time has become one of the bestselling authors in the young adult genre, and I was delighted to get a recommendation to read her Raven Cycle of titles, particularly as she will be coming to Milton on Monday, November 6 for a MPL event (reserve your space today!).
How is this for a first line? "Blue Sargent had forgotten how many times she'd been told that she would kill her true love". Being a teenager can be tricky enough. Being a teen in a matriarchal family of psychics who aren't charlatans, and given that fate? Well, you know your approach to boys is going to be complicated. At the beginning of the book when she is sixteen, she is told that this is the year she will fall in love.
We then meet a group of friends that we are somewhat set up to dislike, since we already like Blue, and she automatically dislikes all of the entitled boys who attend a very fancy prep school in her small Virginia town. Aglionby Academy is, according to Blue, an all-boys school for politician's sons, and oil baron's sons, and the sons of mistresses living off hush money. "They think they are better than us and that we're all falling all over ourselves for them" she says. And about them she has developed two rules: "One. Stay away from boys because they were trouble. And two, stay away from Aglionby boys, because they were bastards".
And yet Gansey, Ronan, Adam, and Noah are not people to be dismissed or disliked. They are an admirably tight group of friends with circumstances, complexities and personalities that challenge their relationships, and they are working toward a mysterious shared goal which serves to drive the plot.
Stiefvater is a very skilled writer who writes with insight, humour, and creativity. I loved that the book surprised me more than once, and that I couldn't guess what happens next. And I especially loved how she made me believe in the great friendship between the boys. The next books in the Cycle are waiting for me to read next, and I can't wait.
Get your copy of The Raven Boys today.
---
A Dog Walks Into a Nursing Home: Lessons in the Good Life From an Unlikely Teacher by Sue Halpern
Recommended by Bill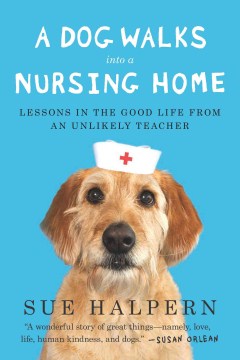 Sue Halpern is a gifted writer, and so I was happy to get this recommendation.
Restraint. Prudence. Faith. Fortitude. Hope. Love. Charity. These are the chapters under which Halpern shaped her story, and she brought Aristotle, Darwin, Schopenhauer and others into the story to help wrestle with these larger themes (along with her 43 pound labradoodle named Pransky) in order to tell the stories of what she learned when she trained her dog to become a therapy dog for a local nursing home. This isn't a sentimental book, but it does engender deep feeling as Halpern shares her compassionate and clear-eyed thoughts about old age, connections, and caring with the reader. It was so deeply moving, and I'm grateful I had the chance to read it. I hope some of what I've learned as a result will stay with me for many years to come.
And after our bodies are done with us, what remained? If we were lucky, someone to tell our stories. So I will tell you about Fran and Lizzie and Dan and Thomas and the others Pransky and I met at County who are gone now, and breach the wall of mortality. That is history bending toward itself. I will tell you about Pransky and the life that we made together at the nursing home and in our family, and praise her intelligence and athleticism and kindness, and tell you about the time she chased the lamb through a room filled with old people in wheelchairs, and the morning she lay beside Grace as she died, and, for a while at least, keep them both alive. Stories breathe life. ... I also see ahead to a time when [Pransky] will not be there, and everything I know about her will have happened in the past, and her early death - because all dog deaths come too soon - will feel unjust, and will be unjust - not by the measure of history, which could care less, but by the measure of me. Strange to be grieving in anticipation of grief, but love will do that.
Get your copy of A Dog Walks Into a Nursing Home today.