January 2018 Reads
I was going to stop the 2017 Reading Challenge this month as a Baker's Dozen. Now that I have announced my retirement, I realize that even more I want to hear from you about what you would like me to read. I think it would be a brilliant way to conclude my final six months with MPL. I have a few more 2017 leftovers that I'm looking forward to picking up, but do now need more of your reading recommendations!
Three reading recommendations follow.
The Elegance of the Hedgehog by Muriel Barbery; translated from the French by Alison Anderson
Recommended by Leslie
This story is told in the voices of two people who live in an apartment block in Paris which houses very, very rich people: Renee, the self-described short, ugly and plump middle-aged woman who hides her love for learning, culture and beauty under the self-imposed cliché of the trappings of a stereotypical Paris concierge; and Paloma, the young daughter of a family who lives in the building, who sees no positive meaning in life, and so therefore plans to kill herself when she turns 13.
Renee, (with the help of her local libraries, I noted with professional interest), has moved far away from her impoverished youth with limited learning potential. She is an impressive autodidact (self-taught person), informed from reading heavily in the classics (Tolstoy is a particular favourite), philosophy, religion, history and the arts, and responds deeply to the joy of painting (Dutch Masters in particular), and music (Mahler and Purcell). Despite living in the heart of Paris, she is quite lonely: her husband has died, her only and dearest friend talks of moving away, and while she is sustained by her learning and cultural endeavours, she is not completely fulfilled by them.
Paloma is a young girl of penetrating intelligence, a sardonic eye, and a philosophical bent, who is saddled with an older sister she finds most irritating, a puzzled mother, and a politician father who is largely absent.
Both of these distinct voices takes turns in telling her story: frustratingly it is clear that Renee and Paloma would be great friends, if only each could move outside her milieu and connect. Happily, someone new moves into the apartment block and he connects easily with both Paloma, and with Renee -- to her consternation. No longer will she be able to remain hidden.
The humour, the wisdom, the friendships, the intelligence, and desire for a meaningful and connected life of the people who come alive on the page made this a terrific book to read. Decidedly French in its feel, in the end the book was universal with its emotion. The description of what 'never' means at the very end of the book brought tears to my eyes. What a good book.
Get your copy of The Elegance of the Hedgehog today.
---
Meddling Kids by Craig Thompson
Recommended by John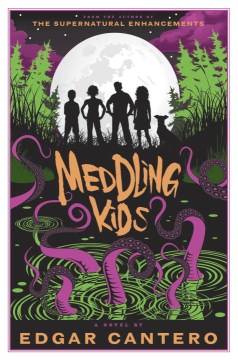 What an unexpected book this was. The book jacket says to the prospective reader "with raucous humor and brilliantly orchestrated mayhem, Meddling Kids subverts teen detective archetypes like the Hardy Boys, the Famous Five, and Scooby-Doo, and delivers an exuberant and wickedly entertaining celebration of horror, love, friendship, and many-tentacled interdimensional demon spawn". I have to say that whoever wrote that brief synopsis really hit the nail on the head.
Thirteen years before the start of this book, a close group of four friends aged between 11 and 13 (Peter, Kerri, Andy, and Nate) who called themselves the Blyton Summer Detective Club solved the Sleepy Lake Monster mystery in Blyton Hills, Oregon, with the help of Kerri's dog, Sean. This was the last escapade of the BSDC, and up to that point they had enjoyed great success at detecting. And yet, as much as they loved each other, and loved their summers together in Blyton Hills, they never went back, and eventually went their separate ways into young adulthood.
When the book begins, not everything has gone well for the friends, yet Andy is trying to bring the surviving friends back together and go back to Blyton Hills. She believes that what they witnessed in 1977 is not over, and now needs to be finished. Each of them is now troubled, and none of them have reached their full potential, and all are very afraid about going back, yet go back they do.
The road trip to get to Oregon is memorable (the escape from the asylum is particularly epic), and once back in Blyton Hills the action picks up swiftly. The villains are scary, the people are complex not cardboard, and the erstwhile teen detectives are capable, snarky, pop-culture referential, frightened, and determined. And there is a great dog: as readers of this year long reading journey will recall, I am a sucker for great dogs.
Unpredictable, fast-paced, funny, occasionally intense, sometimes sad, and a bit off-centre, Meddling Kids was an engaging read from start to finish.
Get your copy of Meddling Kids today.
---
Fifty-Five, Unemployed, and Faking Normal: Your Guide to a Better Life by Elizabeth White
Recommended by a kind Milton resident, whose name I have not tracked: sorry
I am sorry that I somehow lost the name of who recommended this book to me.
"You know her. She is in your friendship circle, hidden in plain sight. Her clothes are still impeccable bought in the good years when she was still making money. To look at her, you would not know that her electricity was cut off last week for nonpayment or that she meets the eligibility requirements for food stamps".
These are the slightly chilling words that greet you upon opening White's book. The reader goes on to learn that the preamble from which this quotation is taken was developed from presentations by the author on PBS's website New Avenue in which she provided a composite of her own experiences and those of friends. She was 55. Well educated. Well employed. Well housed. Until this was no longer the case. Bad financial decisions. Uncertain job market. Stagnant or falling wages. Disappearing pensions. Housing, healthcare, and education costs are through the roof. And suddenly life became very different.
When she appeared on PBS and told her story, she heard from many others that her story echoed theirs, too. A TEDx appearance (which I've watched - it is compelling) further highlights the financial challenges being faced by many boomers. It isn't particularly helpful to say, well, I guess you are the architect of your situation, good luck. Somehow a solution has to be found for the on-thin-financial-ice millions in the US who are facing their retirement years without the resources to sustain them in dignity. The issues are systemic. What is it going to mean to be old in America? We know that in Canada, concerns have also been raised on this front. It is probable that what White describes will have an impact that will be echoed here, too.
In this book, White suggests that those in the situation in which she found herself is to establish a form of self-help - Resiliency Circles - in which people can come together and be real with each other, in a way that no one else except those others in the same leaking boat can understand. She provides guidelines about how to set up a Circle, and what questions to put to the group. She goes on to encourage people to change their approach. To share resources, and figure out a way forward. To think differently about what jobs people are prepared to take, where to live, and in what kind of housing. To figure out a way to live a life not defined by things. She calls it smalling up.
The book raises very worrying questions. I am glad I read it.
Get your copy of Fifty-Five, Unemployed, and Faking Normal today.